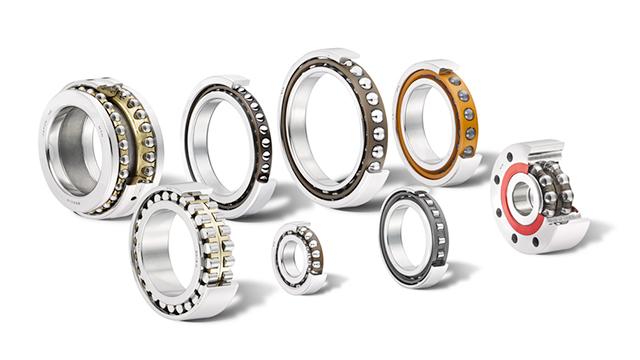 Angular contact ball bearings
Angular contact ball bearings Accuracy grade
Accuracy from low to high as P0 (ordinary), P6 (P6X), P5, P4, P2. European and American brands, P3 equivalent to ISO and JIS standard P6 class, P7 equivalent to P4 class, P9 is equivalent to P2 level
Single row angular contact ball bearing
The axial load of ball bearings can only bear a direction, in the bear radial load, will cause additional axial force, must be applied to the reverse load, therefore, the bearings are generally used in pairs. Double row angular contact ball bearings can withstand the big radial load mainly radial, axial load and load torque, it can limit shaft or shell two-way axial displacement, contact angle of 30 degrees.
In pair angular contact ball bearing
Back to back configuration, rear code for DB (such as 70000/DB), the load line to back pair of bearing the bearing axis to separate. The axial load can take effect on the two directions, but can only load on each direction borne by a bearing.
Face to face arrangement, rear code for DF (such as 70000/DF), this configuration is not as good as back-to-back pair of high rigidity, but less suitable to withstand overturning moment.
Tandem configuration, rear code for DT (such as 70000/DT), tandem configuration, load line in parallel, radial and axial load evenly shared by the bearings. However, bearings can only bear the role of axial load in one direction. If the axial load in the opposite direction, or if there is a composite load, it is necessary to add a series matching the relative bearing adjustment of third bearings. This configuration can also be series of three or more bearings in the same support, but can only endure single direction axial load
Angular contact ball bearing Main use
Single row angular contact ball bearing : spindle, high frequency motor, turbine, centrifugal separator, small car front, differential pinion shaft, booster pump, drilling platform, food machinery, dividing head, welding machine, low noise cooling towers, electrical equipment, coating equipment, machine bed plate, arc welding machine
Double row angular contact ball bearing: oil pump, blower, air compressor, all kinds of transmission, fuel injection pump, printing machinery, planetary gear reducer, cycloid reducer, extraction equipment, food packaging machinery, electric welding machine, electric iron, square box, gravity type gun, stripping machine, half shaft, test equipment, fine chemical machine